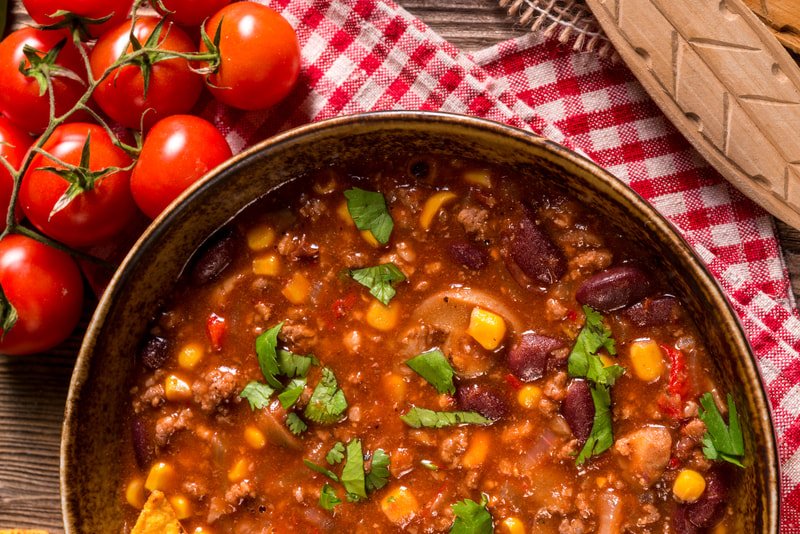 Smokin' Mary goes well with chili, it's a natural pairing. We have a lot of variations of chili featuring our award winning mix. But the one that takes the cake is our meaty chili. It should just be called meat meat meat, but that might get confusing. So we spelled it out for you. If you like meat as much as we do, this is the chili for you!
---
Smokin' Mary's Meaty Chili
Ingredients:
1½ lbs. ground beef
1lb bacon, chopped
1lb steak, cut into 1-inch cubes
3 cloves garlic, chopped
1 large onion, chopped
1 can roasted sweet corn
1 large red bell pepper, chopped
4 stalks celery, chopped
1 bottle Smokin' Mary Mix
2 x 15 oz. cans of diced fire roasted tomatoes
2 x 15 oz. cans of kidney beans with liquid
1 x 15 oz. can of black eyed peas with liquid
3 tbsp chili powder
1 tbsp cumin
1 tsp chipotle flakes
Directions:
Brown all the meats together, making sure the ground beef is crumbled. Set aside
Sauté garlic, onion, bell pepper and celery together in some olive oil until cooked but still firm.
Add the browned meats and the sautéed vegetables together in a big pot. Add the canned tomatoes, kidney beans, black eyed peas, chili powder, cumin, chipotle flakes and the Smokin' Mary Mix. (Be sure to rinse the bottle with a little water and pour it all into the pot.)
Bring the pot to bubbling and simmer for about 1 hour. If it starts to get too thick, add more water.
Top the chili with shredded cheese and/or sour cream. Enjoy!
---