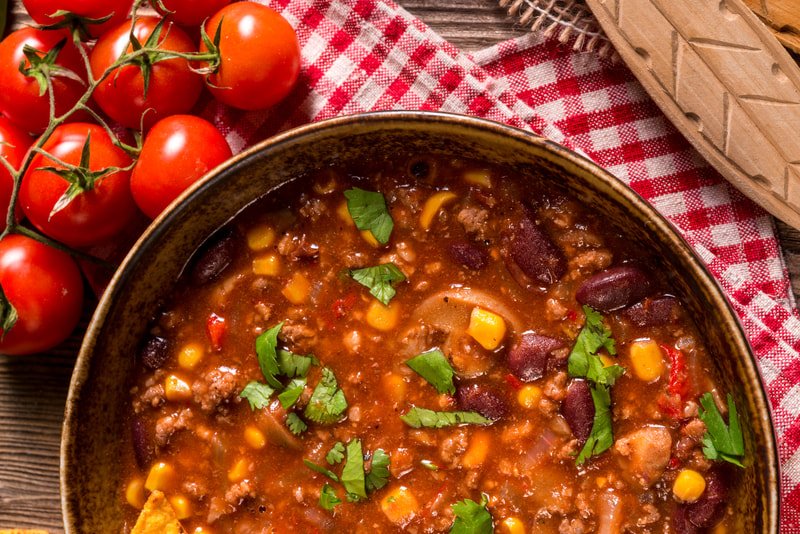 There is nothing better than combining dinner and drinks, especially when you can do it all in one pot. We took direction  from Julia  Child on cooking a good meal in the kitchen and added a little kick to this chili recipe. You can always opt out on that extra ingredient, but we think it adds just the right extra touch to make a unique, shareable chili concoction.
---
Loaded Bloody Mary Chili
Ingredients:
Olive oil, for sautéeing
2 stalks celery diced
1 onion, diced
2 cloves garlic, chopped
3 pounds ground beef
1 Tbsp chili powder
1 tsp ground cumin
1 tsp ground oregano
2 cups Smokin' Mary mix, (more if prefer)
1/4 cup vodka (optional but well worth it!)
1 Tbsp Montreal steak seasoning
1 can roasted sweet corn
15 oz can kidney beans, drained and rinsed
15 oz can pinto beans, drained and rinsed
Directions:
In a large pot over medium heat, add some olive oil and sauté the celery and onions until soft. Add the garlic and stir, then add the ground beef. Cook until browned, 5 to 10 minutes; drain off the excess fat. Stir in the chili powder, cumin and oregano.
Add the Bloody Mary mix, vodka (if using), Montreal steak seasoning, Tabasco and Worcestershire to the pot. Stir. Add the kidney and pinto beans, stir together well, cover and then reduce the heat to low. Simmer for 1 hour, stirring occasionally. Add more Smokin' Mary mix or water if needed during simmering.
Serves 8
---